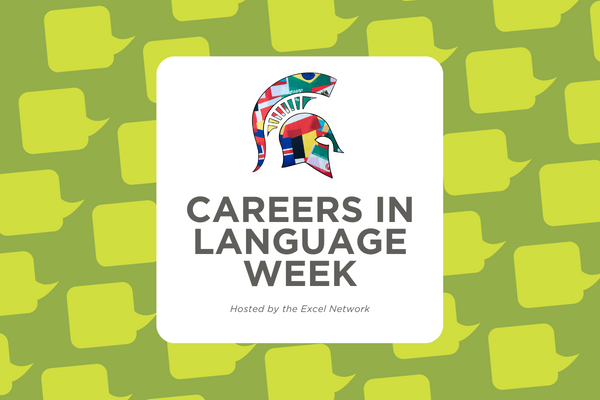 Careers in Language Week
Join the Excel Network in Careers in Language week where we look at career opportunities and invite alumni to come and speak about their experiences.
Each day will feature one to two alumni panels that allow students time to network with alumni. Come prepared to ask questions about how language skills can be used in your chosen career field, and how languages can enhance your academic career.
Monday, November 7: Careers in Law/Government
Alumni Panel: Careers in Law/Government @ 9:30 am – 10:30 am
Fulbright & Peace Corps Info Session @ 4 pm – 5 pm
Tuesday, November 8: Careers in Translation
Alumni Panel: Careers in Translation @ 10 am – 11 am
Wednesday, November 9: Careers in Tech
Employer Visit: TechSmith (virtual) @ 1 pm – 2 pm
Thursday, November 10: Careers in Business
NSA Language Info Session @ 12 pm – 1 pm
NSA 1:1 Career Conversations @ 1 pm – 3 pm
Alumni Panel: Careers in Business @ 5 pm
Friday, November 11: Careers in Health & Human Services
Employer Visit: Refugee Development Center @ 10 am
Alumni Panel: Careers in Health & Human Services @ 12 pm – 1 pm