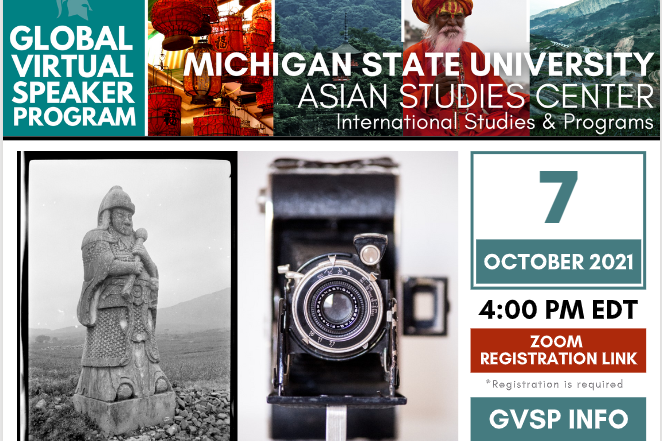 Online event: Graven Images: Missionary Visual Practices and Cross-Cultural Imaginations of Religion in China
Zoom webinar 4:00 pm, October 7, 2021.
About the speaker
Joseph W. Ho is Assistant Professor of History at AlbionCollege, Michigan, and a Center Associate at theUniversity of Michigan's Lieberthal-Rogel Center forChinese Studies. His research concerns transnational visualculture, histories of photography and film, globalChristianity, and Sino-US encounters. Ho is the author ofDeveloping Mission: Photography, Filmmaking, andAmerican Missionaries in Modern China (Cornell UniversityPress, 2021)
This event is co-sponsored by the MSU Asian Studies Center's Global Virtual Speaker Program and Department of Religious Studies The GVSP aims to stimulate and increase academic and scholarly interest about Asia at MSU. The Program is made possible by funding from a variety of sources, including but not restricted to the Anthony Koo/Kwan-Wai So Lecture Endowment in Chinese Studies, Council on Korean Studies Endowment, India Council Endowment, and Japan Council Endowment managed by the Asian Studies Center.